Thai Style Fried Rice... With a Curry Flavor, Hmmm!!!
gailanng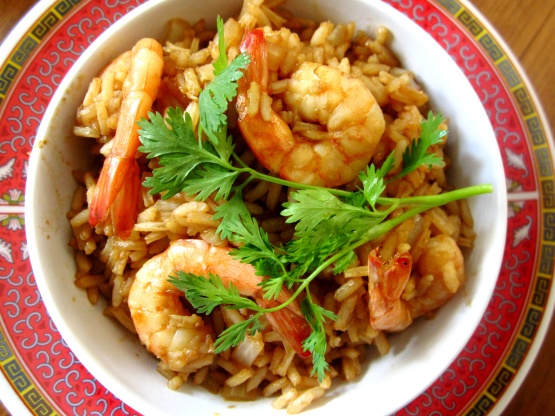 My husband once had this Thai fried rice that was not only spicy-hot, but had a distinct curry flavor. After visiting a Thai restaurant in Jacksonville and him exclaiming "That's it!" I knew I had to try and replicate it. We like things spicy-hot, so adjust chilies and red curry paste according to your taste buds!!

Wow! This was so delicious! It will definitely become one of my regular dishes! I made a few changes to suit my cravings of the moment, and it turned out wonderfully! I used green curry paste instead of red, substituted more chicken instead of shrimp, omitted the fish sauce, and added a couple slices of fresh lime to garnish. Other than that I followed all other instructions and was really impressed! Thank you for such a tasty and easy recipe!!
Be sure rice is completely cool, better cold!
Heat oil in wok over medium heat and stir-fry onions and chilies until soft.
Add the the red curry paste along with the curry powder to the pan and fry until the oil separates from the mixture.
Along with the garlic, add pork or chicken and fry until cooked.
Add shrimp and cook until they turn pink.
Add rice and toss thoroughly until coated with curry mixture and heated through.
If your wok is large enough, push rice to side and pour eggs into center. Cook and stir until eggs just start to set, then mix with rice, tossing on high until eggs are cooked. (Cook eggs in small fry pan until they just start to set if wok is not large enough, then add to rice.).
Sprinkle pepper and fish sauce evenly over top and lightly toss, remove from heat.
Now lightly toss the chopped green onions into the rice.
Have the fresh chopped coriander and basil available for personal preferences, along with fish sauce, soy sauce, and Thai-style chili sauce!