Thai-Style Chicken Vegetable Soup
Debbwl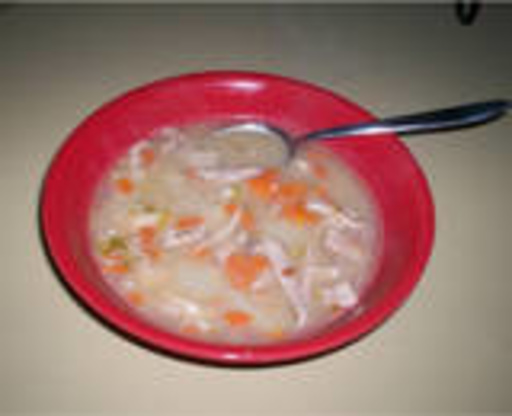 This is a great soup for a cold day, or an alternative to chicken soup for someone with a cold! It is really a mix between American potato soup and Thai chicken soup.

I did not see the addition of peanut butter when I tagged the recipe and I really cannot stand PB. I omitted the PB and the flavour fell somewhat flat, which cannot surprise. I added fresh cilantro and lime juice from two limes, extra salt and extra red pepper flakes and ended up with a great tasting soup! Also, I was skeptical of the potato combined with coconut milk - but it really worked. Made for 1-2-3 tag
Saute carrot, celery, onion, and garlic in oil in a dutch oven over medium-high heat, stirring constantly, until tender.
Stir in broth and remaining ingredients; bring to a boil. Reduce heat and simmer uncovered for 20 to 30 minutes or until potato is tender.