Derf2440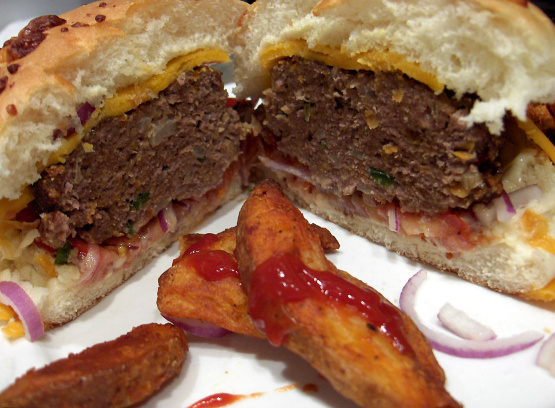 ------A medley of Thai flavorings livens up ordinary burgers and makes them extraordinary. Lovely and spicy and great topped with your choice of lettuce, tomato slices, basil leaves, cilantro, mint, Thai peanut sauce, mayonnaise, cucumber slices, and garlic or Chile paste.------

Only used the spice mixture. It was very good. The spice is not very strong, it just gives the hamburgers a little extra flavor. I don't think the flavor is strong enough to make anyone not like it, but at the same time it is a different enough flavor to add a little excitement to normal burgers. Will definitely make it again.
In small bowl, whisk together all spice mixture ingredients.
In large bowl, stir together ground beef, carrots, onion, Chiles, bell pepper and salt. Add spice mixture; stir until well-combined. Stir in egg and bread crumbs. Shape mixture into 8 (4-inch) patties.
To BBQ When the coals are at medium temperature place the burgers on the barbecue close to the coals and cook for about 3-4 minutes on each side.
Brush slices of crusty bread with a little oil and place on barbecue to toast.
Or, heat large nonstick skillet over medium-high heat until hot. Add 1 tablespoon of the oil; heat until hot. Add 4 of the patties; cover and cook 8 to 10 minutes or until browned and no longer pink in center, turning once. Repeat with remaining burgers, adding remaining 1 tablespoon oil. Serve in buns; top with favorite condiments.