Thai Style Broccoli Salad
awalde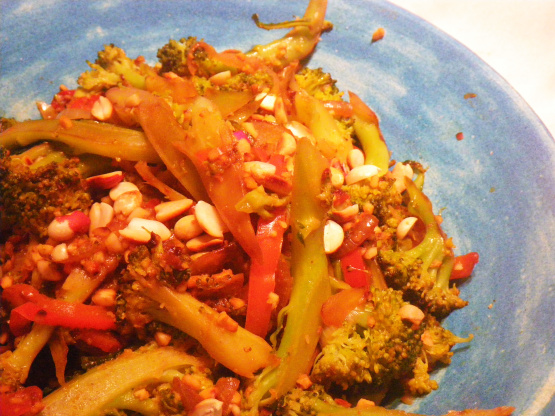 This is a fast, easy side dish thats colorful and very tasty! You can always adjust the heat factor or even add sliced cooked steak or chicken for a whole meal dish.

This is delicious! We made it for a Thai-themed potluck dinner, and it was a hit! We made it with creamy peanut butter, since we didn't have any chunky on hand. Also, we served it at room temp, as it was tough to time all the dishes to be hot at once. We will definitely make this one again, and highly recommend it.
In a small bowl combine the peanut butter, sugar, water, lime juice, soy sauce, sesame oil, and pepper flakes.
Whisk until well blended and set aside.
Heat vegetable oil over medium high heat in a large skillet or wok.
Add the broccoli, bell pepper, onions, and garlic.
Stir fry for 4 minutes or until vegetables are JUST tender crisp.
Remove from heat and stir in the peanut butter mixture.
Toss well to combine, sprinkle on chopped peanuts and serve hot or at room temp.