Thai Stir-Fried Chicken Livers
Prep 10 mins
Cook 15 mins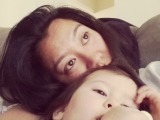 This is a very simple and delicious dish to serve over white/jasmine rice for chicken liver lovers! Credit goes to my mommy, Pat.
Directions
Sauté both types of onions in the vegetable oil over low-medium heat for about 3-5 minutes.
Add the (drained and rinsed) chicken livers and turn the heat up to medium-high and sauté livers on each side (turning over once) until the livers darken in color and become opaque looking.
Add the chicken broth, oyster sauce and black pepper and stir thoroughly.
Then let simmer uncovered for approximately 10-15 more minutes (or until the livers are cooked just all the way through and sauce is thickened).
Serve over steamed white/jasmine rice and enjoy!
Reviews
Most Helpful
This was pretty good tasting but by the time it was finished cooking, the onions were soft and mushy, not exactly the way we like our stir-fries. Next time I think I would stir-fry the onions as directed, then remove them from the pan while I stir-fried the livers, returning them to the pan once the livers were done cooking in the chicken broth/oyster sauce liquid. I would also stir-fry a clove or two of fresh garlic with the onions, and add a little rice wine or dry sherry to chicken broth. A drop or two of sesame oil would probably be delicious. I think I'll try that next time. Thanks for the recipe.
Great recipe!!! I doubled on the chicken broth and oyster sauce because at the end I added stir-fry veggies to it and I also thickened the sauce up a bit with cornstarch just so it was more gravy like. It was very good and pleased even the most finicky eaters. Next time I will add more oyster sauce and also garlic but that is just my personal preference, the recipe is great as is!! :D
This was quick and easy to make. It tasted pretty good too.