Thai Sticky Pudding (Kanom Nam Tan)
Prep 10 mins
Cook 20 mins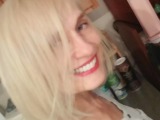 From David Thompson's book, Classic Thai Cuisine. A very filling dessert, this is typical of the sweet snacks available from the street hawkers that abound in Thailand. Should the mixture clump while cooking, just remove the pandanus leaves, whirl the mixture in a food processor and then return to the pot with the pandanus leaves. NOTE: Pandanus leaves (bai toei horm) are leaves used in desserts and occasionally in savoury cooking. Their flavor, released only when subjected to heat, is woody and nutty. Available from Asian food stores. If fresh is unavailable, by all means, use frozen. Although they are not as fragrant as the fresh, they are a better alternative than the essence that is available in small glass bottles.
Directions
Sift flours together in a bowl with the salt. Whisk in the cream and sugar. Strain into a medium pot and add the pandanus leaves. Cook over a medium heat, stirring constantly to prevent the mixture from sticking, for 15-20 minutes, or until the taste is neither floury nor grainy. Pour the mixture into a tray, smooth it out and allow to cool.
Cut into 1.5 cm (1/2 inch) cubes and serve either alone or rolled in some freshly grated coconut and coconut cream.
Reviews
Most Helpful
I had the opposite problem of katew - this was delicious but it suddenly went from a flourly liquid to a solid after about 5 minutes of cooking. It stuck on the bottom and I wasn't prepared to pull if off and onto a greased baking pan at that moment. The end result really reminded me of mochi, but with a coconut flavor. When I make mochi I knead the dough after it cooks, so I may try that with this recipe in the future. I made a half batch and got 25 little pieces - someone could maybe eat 3-4 pieces, so a full recipe would serve at least 12 people. For ZWT9
I tried this as an experiment as I had milk to use up and rice flour left from making Xmas shortbread. It came together fast but needed extra long slow cooking to get rid of the floury chalky texture. You need to stir or whisk non stop because it will catch on the bottom. I used brown sugar not palm sugar and halved the amount and I was 'out' of pandanus leaves !!! Next time !!! I got tired of stirring but my daughter took over to get it to a perfect consistency - thick and lustrous. We had no idea of what to expect but I will give 5 stars for an excellent cultural and culinary experience. Made for ZWT9.