Thai Spicy Stir Fry Chicken
Bergy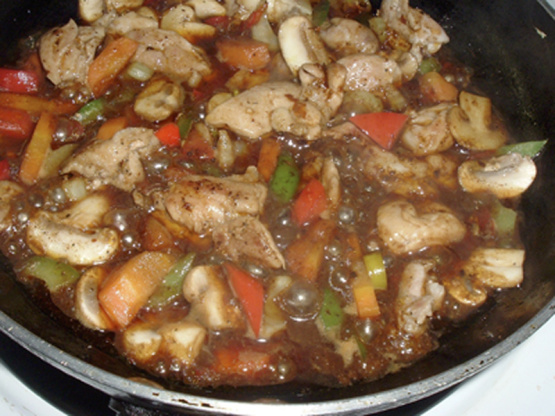 Make this as spicey as you want or as mild. This is one Thai recipe without peanuts it is from the figment of my imagination, tweaked twice. This is the type of recipe you may change ingredients at will , use up left overs etc etc. Have fun with it. I like to serve it over Chow Mein Fried Noodles. Add fresh Jalapeneo peppers too if you like. There are many Hot/sweet Thai Chili sauces but I like UFC brand. If you like your veggies well cooked steam the carrots until tender before adding to the pan.. I like mine crunchie so I use them raw.

Yuck, OK, I'm no chef, but I've eaten in lots of Thai restaurants, visited Thailand, and cooked Thai food. Ugh, all that sugar! Nasty!!! Also, I would definitely substitute basil for cilantro. This recipe was all wrong, even if you categorize it as Asian fusion. I can't even eat the leftovers, never mind make it again.
Cut the chicken into bite size pieces.
Stir Fry the cut chicken until browned (apprx 5 minutes).
Add peppers, mushrooms & carrots, stir fry for 5 minutes more over medium high heat.
Add green onions cook 1 minute.
Mix together remaining ingredients (except Cilantro garnish), pour over chicken simmer 5 minutes .
Meanwhile cook your Noodles or rice or whatever you are serving it with.