Thai Spicy Shrimp Salad (Yaam Goong)
Hey Jude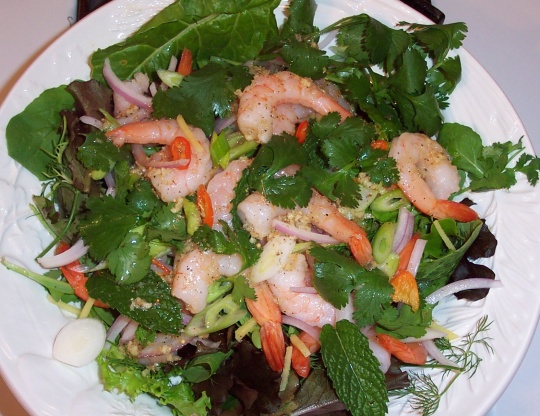 Spicy, refreshing, and easy and quick beyond belief to make! Buy your shrimp already cooked from the market and you won't have to cook a thing!

Bravo, nice salad! I made this a couple of days ago following the directions exactly but used the microplane to grate my ginger and I did not have the lemongrass so used the zest of one lemon. To my dressing I added 1 tablespoon of canola oil to hold it onto the salad better. I cooked my own shrimp but see how easy it would be with pre-cooked. I actually think I would like this even better with chicken. Thanks for posting, Sue Lau.
Put lettuce in salad bowls, and arrange shrimp on top.
Place ginger, onion and chilies over shrimp.
In a small bowl, mix lemongrass, garlic, sugar, fish sauce, lime juice, and black pepper.
Pour over salads and garnish with green onion, cilantro, and mint leaves.
Serve.