Thai Shrimp With Coconut-Almond Rice
mliss29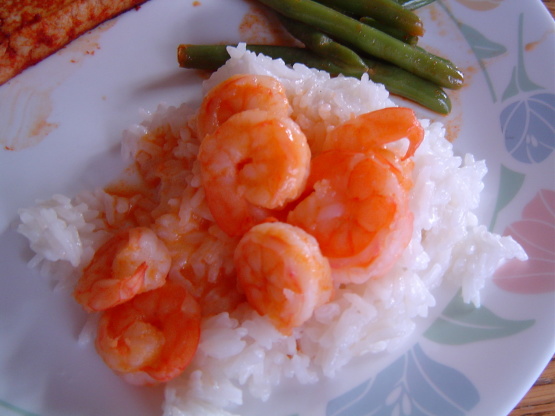 From the Food section of the Kansas City Star. This is really good. The only sauce I could find at my grocery store was Thai garlic-chili sauce, which is really good. And I don't toast the almonds. sigh. I'm a lazy chef. This goes well with Thai Sweet-And-Sour Cucumber Salad, Thai Sweet-And-Sour Cucumber Salad.

Hubby said he wiould order this in a restaurant. I added some of the coconut to the sauce at the last minute. This will be a staple at our house. Made for ZWT4 Chic Chefs plus it was used for the Aussie recipe swap 15
Prepare rice according to the package directions, but replace half the water called for with coconut milk.
Heat the oil in a large skillet. Add shrimp and cook 3-4 minutes until pink.
Add chili sauce and stir until heated through.
Stir almonds into cooked rice and top with shrimp mixture.
Garnish with onions.