Thai Shrimp Kabobs With Hot Ginger Sauce
Nimz1466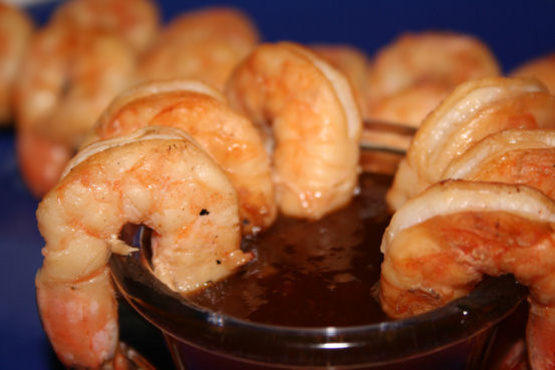 Adapted from a pamphlet of seafood appetizers I found tucked into one of my sister's cookbooks, with a couple changes. This dish may be prepared ahead and refrigerated, then grilled just before serving; sauce can be prepared ahead and reheated. Serve as an appetizer OR on a bed of rice as an entree, with small dishes of condiments (chopped peanuts, chopped scallions, coconut, etc.) to sprinkle on it. Preparation time does not include marinating time.

We did a mixed grill of shrimp, chicken and veggies. Absolutely delicious. And the sauce is divine. What's leftover we plan on basting our wings with tomorrow.
Combine marinade ingredients (oil through garlic) in a ceramic or glass bowl.
Stir in shrimp, cover and refrigerate between 3 hours and overnight.
Thread shrimp on skewers and grill just until opaque (about 5 minutes).
SAUCE:.
In a small saucepan, combine apricot preserves, soy sauce, lemon juice and 1/2 tsp grated ginger; bring to a boil.
Dissolve cornstarch in orange juice and add to apricot mixture.
Stir just until sauce thickens.
Serve hot with shrimp.