BarbryT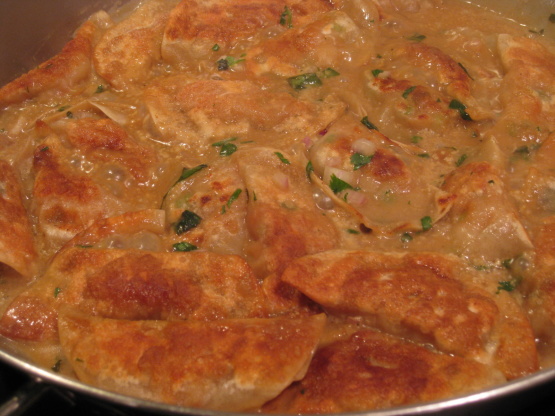 These are a bit time consuming to make, but so very worth the effort. The filling is very easy to make and very falvorful. it's the folding the dumplings that takes the most time. These are wonderful with thew sauce but equaly good without and served as wonton.

This definitely is an "Oh WOW!" Outstanding; exquisite; but yes, really labor-intensive. Solely because of that, I will make it again only for a dinner party. It is a delicious appetizer--savory and crispy (my favorite :-)) But it also is just terrific with the sauce. With the sauce, I would serve it with a variety of other dishes as an entree. I did not use the hot chili sauce in the sauce; I did use the curry powder.
Filling: Combine all ingredients for filling and refrigerate.
Sauce: Combine all ingredients for sauce and set aside.
Fill a small bowl with water, set aside.
Dust a platter or baking sheet liberally with cornstarch. (This will prevent filled wontons from sticking, prior to cooking.).
On a cutting board place the wonton wrappers, three at a time, side by side.
Into the centre of each one, place about 1 teaspoon of the shrimp filling.
Using a small pastry brush, paint two opposite edges of the wonton wrappers with water.
Fold the wrapper over so that the ends meet.
Gather the edges together like a purse, ruffling the edge. Pinch tightly to ensure it is sealed together.
Place on cornstarch dusting baking sheet.
Repeat until all filling is used up.
Heat a skillet with 2 tablespoons (25 mL) vegetable oil.
Place the wontons in the hot oil for about a minute or until browned on the bottom.
Add sauce and put the lid on, reduce heat to low.
Cook for 1 more minute with the lid on and the heat turned off.
Let Stand 1 minute with heat off.