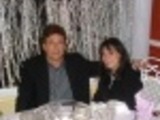 This is so easy to throw together. I have been able to get this on the table pretty fast when I've had unexpected company, and it is a big hit. I like to serve it over couscous or basmati rice. (Make sure you use unsweetened coconut milk, not sweetened coconut cream.)
Directions
In nonstick skillet, heat oil over medium heat.
Add onion and pepper; cook 5 minutes.
Add curry, ginge3r and salt; cook 5 minutes.
Add tomatoes and milk.
Bring to a boil. Reduce heat; add shrimp and cilantro.
Cook, stirring, until shrimp are opaque, about 5 minutes.
Stir in peas.
Serve over couscous or rice.