Thai Shrimp and Chicken Soup
twissis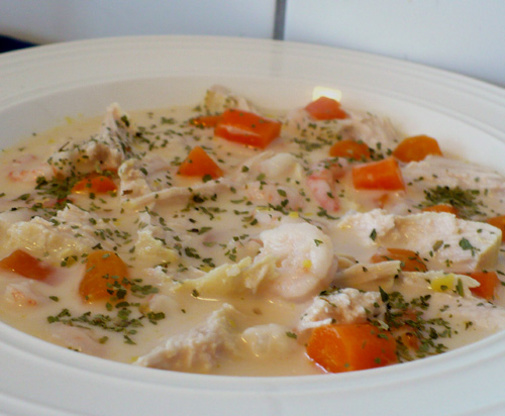 I found this recipe in a Central American magazine called Mucho Gusto, which edition contained a lovely collection of soups. This one, by chef Elsa Cubero sounds really good (and spicy!). I copied the recipe exactly as written, but it sounds a bit heavy on the sirachi sauce - it's very spicy! So you might want to go a little easy on that ingredient - it's easy to add more, but you can't take it back!!!

Originally made as written for the Goddesses of ZWT-9, I decided to add sml carrot chunks I needed to use after I took the 1st set of pics & felt the soup was too monochromatic & not showing as well as it deserved. While that helped, I do feel the presentation would benefit from the addition of snow peas (or mushrooms) that would add both color & texture. All that said, this soup has a lovely flavor we really enjoyed. I took your advice & began w/just half the amt of Siracha sauce & that was plenty for us. For those chefs who follow me (& I hope there will be many), my best advice is: ... Do Not Leave Out the Lime Juice! If you are in doubt, just add extra & you will not be sorry. Thx for sharing this recipe w/us, Lori. :-)
Cook chicken breast in water to cover. When done, shred the chicken and reserve the broth.
In a large pot with a bit of oil, saute garlic and ginger for one minute. Do not let it brown.
Add the whole black pepper, coconut milk, shoyu, sirachi, and a cup of the reserved chicken broth. Bring to a boil and simmer for 20 minutes.
Carefully strain the hot soup and return to the pan.
Add the shredded chicken and the shrimp. Return to a boil and simmer for 10 minutes or until the shrimp turns pink and cooks through. Do not overcook.
Adjust salt seasoning and add the lime juice.
Ladle into serving bowls and garnish with whole cilantro leaves.