EppiRN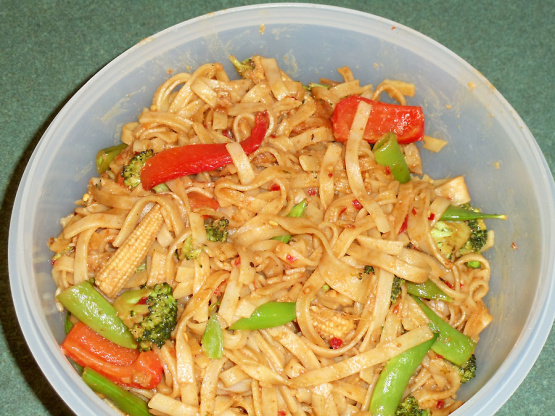 This easy to cook dish can be knocked together very quickly if you use the pre cooked vacuum packed noodles if you can't find them just use regular udon or egg but cook and cool them first.
Wonderful! I skipped the basil but used julienne carrots with baby corn and peas...mmm it was so delicious. The sauce was perfect and made a good amount, and is just as good re-heated as it was freshly-made. Will be making this again, thank you!
In a bowl mix the peanut butter, chilli sauce, coconut milk, vegetable stock and soy sauce to make a smooth sauce. (this can be kept in a container for up to 3 days)
Heat the oil in a wok and stir fry the broccoli, red pepper, baby corn and ginger for 3 minutes Add the mange tout and garlic and cook for a further 2 minutes Pour over the satay sauce and bring to the boil.
Drain the noodles or remove from pack and add to the wok. Stir fry over a high heat for a couple of minutes.
Serve with the basil leaves and peanuts sprinkled over.