Derf2440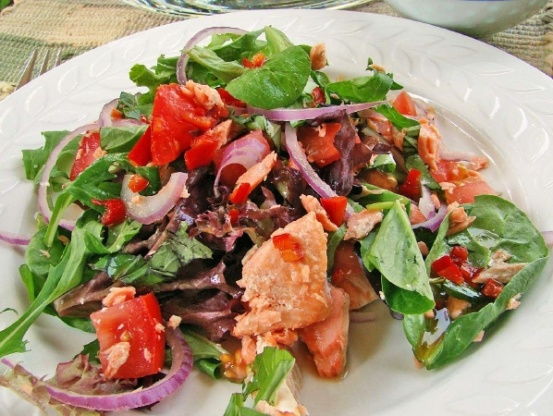 i got this in my email sept 2003,and it looked perfect for these long summer days- and it is.

This was very good! A wonderful mixture of sweet, salty and slightly spicy. Next time I'll use more chile pepper as I think I'd like it with a little more kick! Will make a great hot weather meal!
Preheat oven to 400 degrees F (200 degrees C).
Prepare the dressing by combining the fish sauce, lime juice, brown sugar and chopped chiles in a small bowl; set aside.
Place the salmon filet on a baking tray, and rub olive oil over.
Bake for 20 minutes in the preheated oven, or until easily flaked.
Let cool for at least 15 minutes.
Place salmon filet into a big bowl; use fork to break salmon meat into big chunks.
Add onion, tomato and basil; pour dressing over, and toss lightly until well mixed.
Place mixture on lettuce leaves, and serve immediately.