Thai Rice Noodles With Chicken and Asparagus
V.A.718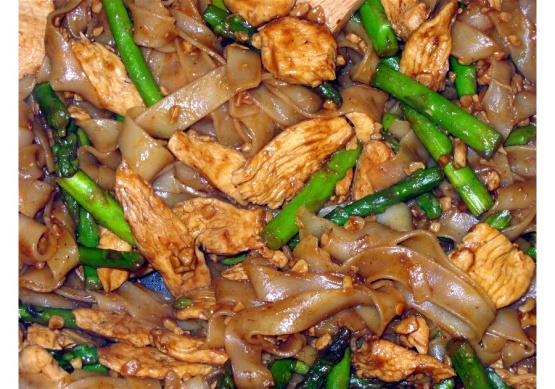 Oooooooh this is good! My husband said he now has no reason to leave me for an asian woman. Thanks alot!! I got this off of a rice noodle box. I like spicy food so its not too spicy for me but it does have chili sauce in it and also, I used salt instead of fish sauce.

Excellent recipe. I subbed broccoli because I had that on hand. Thumbs up from the entire family. A keeper.
Pour noodles into bowl and cover with VERY HOT tap water. Soak for 15-20 minutes.
Heat oil in large skillet over medium-high heat.
Add garlic and stir fry until golden.
Add fish sauce or salt and chicken.
Stir fry until done.
Add soy sauce, chili pepper sauce, and brown sugar. Mix until sugar is dissolved.
Drain noodles and add to skillet along with asparagus.
Stir fry noodles until firm but tender.
Serve and enjoy!