Derf2440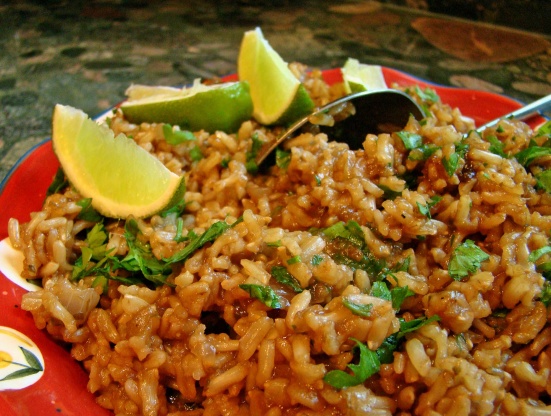 I would love to give this 5 stars, it is delicious! but I believe there is an error in the ingredients list. "2 3/4 cups low sodium soy sauce"??!! but in the instructions it mentions "stir in the broth, rind and salt", and makes no mention of the soy sauce. Sooo - I used 2 3/4 cups of chicken broth and 2 tablespoons of soy sauce. It worked . Also did not use salt as there is enough salt in the broth and soy sauce. I used the coriander in the rice but used fresh parsley for the finishing instead of cilantro which I did not have. This is a wonderful recipe with great flavour and zing and really deserves 5 stars. I do hope you will fix the error in the ingredients!! Thanks for posting it and I will be making it again.
Heat oil in large nonstick skillet over med high.
Add onion and next 4 ingredients; saute 3 min or til onion is tender.
Add rice; saute 1 minute.
Stir in broth, rind and salt; bring to a boil.
Cover, reduce heat and simmer 45 min or til rice is tender.
Remove from heat and let stand 10 minute.
Stir in cilantro.
Serve with lime wedges.