E. Nigma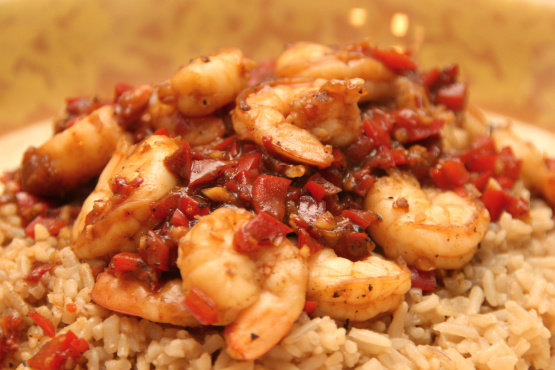 A Thai-inspired creation with sweet red bell peppers and garlic. It's very important not to skip the fish sauce in this recipe! I KNOW it smells weird at first, but trust me it becomes delicious once you cook it. This dish cannot be called Thai without it. It's like the Thai version of soy sauce, so you can adjust how much you add. Btw, sambal oelek is a very spicy red chili paste (should be easy to find--it usually has a gold label). You can leave it out if you don't like your food spicy.

This was not good. First, at no fault of the author, it was very fishy tasting. I think my shrimp was not good. However, it still had no flavor other than burnt garlic. Recipe has you put garlic in and cook way earlier than you should. No temp of wok is given, I put mine on medium on a gas stove and as I expected it was too hot/too early to put garlic in. I used red curry paste as a substitute and doubled the 1 teaspoon amount. It still was not spicy at all like Thai should be. I also found the 1 cup of broth to not be enough liquid for the 2 pounds of shrimp. Overall as I said it was bland at best.
Prepare all your ingredients and have them ready to go in seperate bowls. Mix the corn starch into the chicken stock. Heat your wok on high.
Add the oil to the wok and stir fry the bell peppers for 1 minute.
Add the garlic and stir fry for 30 seconds.
Add the shrimp and stir fry until they curl and turn pink, about 3 minutes.
Add the fish sauce and sambal, stir fry for about 10 seconds.
Finally, add the chicken stock/cornstarch mixture (mix it up again just before you add it because the cornstarch can settle), and mix thoroughly. Boil the sauce for about a minute or two just until it thickens up.
Serve over brown rice.