Rita1652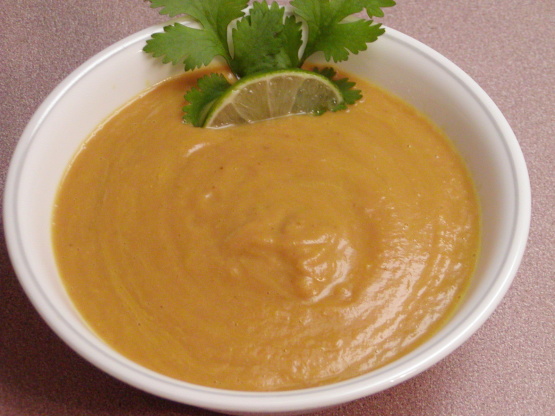 This one came in a Dutch -language "health magazine" called ZIN IN MEER (really just a trumped-up advertising folder) that I received in the mail last week and it was so unusual that I had to try it out immediately. My family loved it. The name of the magazine translates loosely into "Liking/Desire for More", by the way, and I know I'm already craving more of this flavorful, and very attractive fall soup.

How delicious! I used pureed pumpkin, diced onion instead of shallot, half the coconut milk, water for vegetable broth, omitted lemongrass, used half a lime, and didn't immersion-blend. Now that I think about it, I'm reviewing a different recipe.
500

ml coconut milk

500

ml chicken stock or 500 ml vegetable stock (OR 1 bouillon cube dissoved in 500 ml water)

400

g fresh pumpkin, in cubes (peeled, cleaned, and without seeds)

1

hot pepper, finely chopped,with or without seeds according to your heat tolerance (red jalapeno is nice for the color)

2

shallots, finely chopped

2

cloves garlic, minced

3

lemongrass, stems tender white part only,finely chopped
salt and pepper, to taste
chopped cilantro, for garnish (optional)
Add the coconut milk and the stock to a large cooking pan, and bring to the boil.
Add the pumpkin, hot pepper, shallots, garlic and lime zest.
When the mixture returns to the boil, reduce the heat and simmer for approximately 10 minutes, uncovered, or until the pumpkin is cooked and softened.
At this point you can refrigerate and finish the dish later if desired.
Puree the mixture with a hand blender or in a food processor.
Add the lemongrass, and bring the mixture again up to the boil, then reduce the heat and simmer for 10 minutes.
Take the pan off the heat, add the lime juice and add salt and pepper, if needed.
Serve immediately, garnished with chopped cilantro, if desired.