lazyme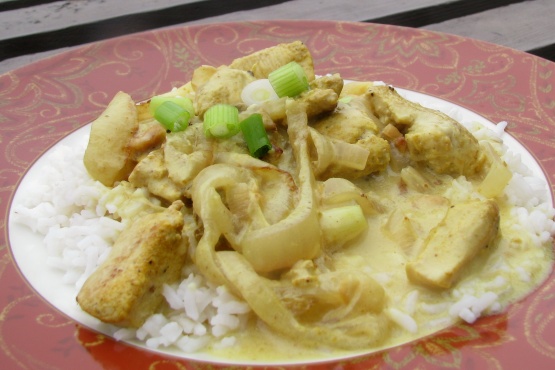 By Mark Bittman. For the curry powder, it should be a mild, fragrant one versus one that's hot; for example, Mild, Fragrant Curry Powder. Serve with jasmine rice and nam pla.

Top Review by Tisme
I followed this recipe exactly as written, and it was fabulous.The family really enjoyed this for dinner tonight served with Jasmine Rice.I used a curry that my DD bought back from Vietnam and it went so well with this dish.I will be making this often from now on, so easy to make, and does not take any time at all.Thanks for posting Debbie.
Put chicken, garlic, ginger and curry powder in a large bowl and toss well to coat. Marinate while you prepare everything else.
Put oil in a large, nonstick skillet/wok; turn heat to medium. Add onion and cook, stirring occasionally, until soft and translucent, about 5 minutes. Raise heat to medium-high and add chicken. Cook, stirring occasionally until the chicken loses its raw look and begins to brown, about 5 minutes. (Additional cooking is coming when its in the sauce.).
Stir in peanuts, sugar, nam pla and coconut milk. Cook, stirring occasionally, until the sauce is thickened and chicken is tender, 5 - 10 minutes. Serve immediately.
NOTE: You can also use 1/2 head of broccoli and 6 scallions (2-inch lengths) in this also. Just parboil them first for about 3 minutes or until barely tender before adding to pan along with chicken. Obviously, you'd drain the vegetables first. You'd also need to increase the coconut milk to 3/4 cup total.