vrvrvr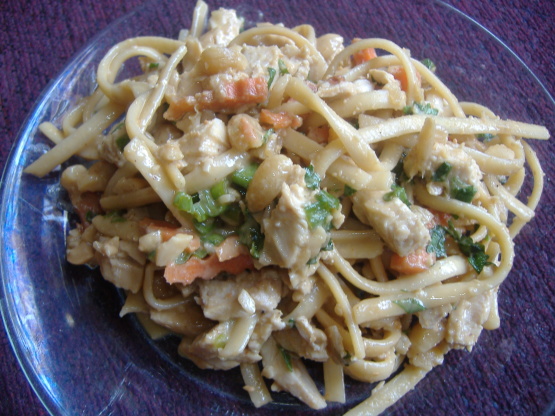 This salad is great in the summertime, for buffets or for quick lunches. It has a nice kick to it!!

Top Review by JTsMom
This salad is killer! Talk about a flavor explosion for the taste buds. I had everything on hand except for the dried chilies, so I added some dried chili flakes. I also added a few dashes of fish sauce. I had an array of salads on the table and this was gone in an instance. I let it sit out on the counter for about 10 minutes or so before serving. The flavors were more pronounced chilled rather then ice cold. I garnished with some cilantro, chopped peanuts, and lime wedges. This received many compliments and requests for the recipe. Great Salad Abby Girl, thanks for posting!!
Place chicken breast in a large saucepan; fill it with enough cold water to cover completely.
Season lightly with salt and pepper; bring water to a boil, then reduce heat to medium low. The water should be at a gently simmer.
Poach for 25 minutes.
Allow chicken to cool in the cooking liquid.
Remove chicken from the pan, reserving the cooking liquid.
Cut into pieces.
In a small saucepan, over medium heat, heat the vegetable oil.
Add ginger, garlic and shallot; cook 4 - 5 minutes.
Transfer to a large bowl; add the peanut butter, soy sauce, lime juice, sesame oil, vinegar, brown sugar, chilies and 1/2 C of reserved cooking liquid.
Stir with a wooden spoon until the sauce is smooth.
Add all remaining ingredients.
Toss the pasta salad gently but thoroughly.
Season with salt and pepper.
If sauce is too thick, add more reserved cooking liquid.