Thai Noodles With Spicy Peanut Sauce
Annecd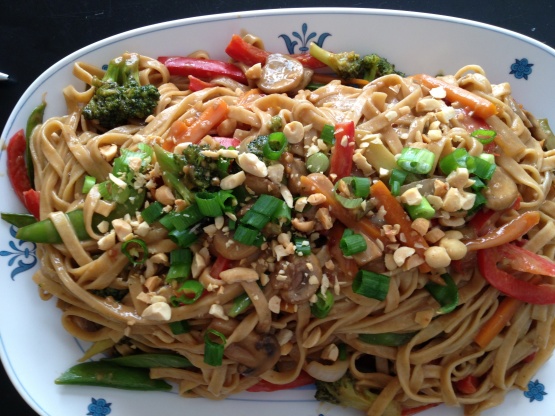 This is a recipe that I've tweeked and adjusted to yield a warm noodle side-dish. It can also stand alone as a main dish. It's quick and easy and full of flavor! I serve it with Chicken Satay. Leftovers are yummy hot or cold.

I was looking for a recipe similar to the Thai Chicken Pasta dish at Cheesecake Factory, and this was very close. To bring it closer to the Cheesecake Factory Dish, I added two cut up chicken breasts, which I cooked until it turned white before adding the carrots and vegetables. Also, I increased the peanut butter by a tablespoon, doubled the chili sauce, and topped the final dish with fresh bean sprouts. One more thing; whisk the sauce ingredients before adding it to the vegetables to make a smooth sauce. My whole family loved this!
Cook pasta in a large pot of salted water according to package directions.
Drain and return to pot.
Add 2 TBSP sesame oil and toss to coat.
Set aside.
Heat remaining 2 TBSP sesame oil in heavy pot over medium-high heat.
Add green onions, carrots, stir-fry veggies, garlic and ginger.
Saute until vegetables soften, about 4 minutes.
Add honey, peanut butter, soy sauce, vinegar and chili-garlic sauce and mix well.
Simmer sauce 2 minutes.
Pour sauce over pasta and toss well.
Transfer to platter and serve warm.
Garnish with additional green onions, if desired.
Yields 8 side dish servings or 4 main dish servings.
**Chili-Garlicsauce can be increased or decreased depending on how spicy you like your dish.
As written, this recipe has some heat, but is still edible for my toddler son.