Thai Noodle Salad With Prawns
teresas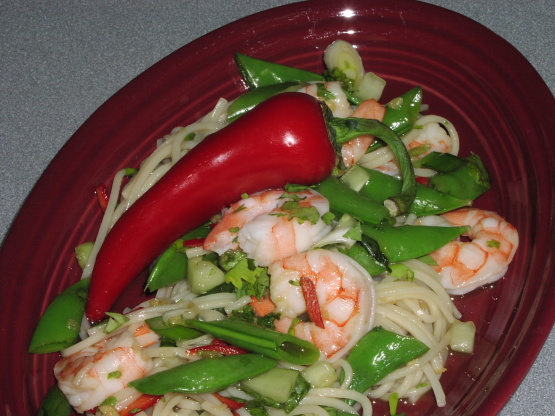 Got this out of a Thai cookbook.

This is a quick and easy salad to whip up. I increased the sugar about 1/2 tbs. and omitted the onions. I also added shredded carrot.
Put the rice noodles in a large bowl and pour in enough hot water to cover them. Leave them to stand for about 4 minutes until soft. Drain and rinse under cold running water, drain again and set aside.
Bring a saucepan of water to the boil. Add the mangetouts and return to boil. Simmer for 1 minute. Drain, rinse under cold running water until cold, then drain again and set aside.
In a large bowl, whisk together the lime juice, fish sauce, sugar, ginger, chili and coriander. Stir the cucumbers and spring onions into mixture. Add the drained noodles, the mangetouts and the prawns. Toss the salad gently together until the ingredients are coated with the sauce.
Divide the noodle salad among 4 large plates. Sprinkle with chopped coriander and peanuts [if using], then garnish each plate with a whole prawn and a lemon slice.
Serve immediately.