Thai Noodle and Vegetable Salad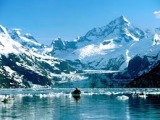 This could be served as a side with an Asian inspired meal, or as a main course for vegetarians. Great flavor combinations. Enjoy!
Directions
In a large bowl, soak noodles in hot water for 20 minutes; drain and cook in boiling water for 2 minutes; drain well and place in large bowl.
Meanwhile in a measuring cup, or jar with lid, combine hoisin sauce, rice vinegar, sesame oil, soya sauce, lime juice, garlic and gingerroot; stir or shake to blend well.
Pour half of the dressing over drained cooked noodles.
Toss mushrooms, pepper, peas, carrot, onions and cilantro and remaining dressing with noodles.
Serve at room temperature or chill until the next day.
Reviews
Most Helpful
Nice salad. I made this as directed and enjoyed all of the flavors that worked well together. It was good the next for lunch too. Thanks for sharing, Kathy. Made for CQ3 - Thailand/Indonesia.

This salad has great flavors, and it gets better after standing. I only added a pinch of salt and a dash of hot sauce, otherwise made as directed for CQ '16. Thanks for sharing!

Very good salad - we had it as a main dish, added some tofu. I also used a green bell pepper instead of a red one, but otherwise made as directed. Having the rest for lunch during the week, maybe adding some tuna to it. Thanks for sharing! Made for ZWT9