Thai Mussamun Curry With Chicken, Potatoes, and Peanuts
Jostlori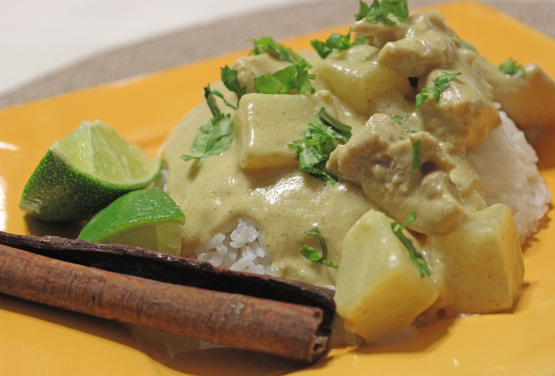 Adapted from The Curry Book: Memorable Flavors and Irresistibly Simple Recipes From Around the World, by Nancie McDermott, and found at splendidtable.com. This curry comes from southern Thailand, where many Thais follow the teachings of Islam. Mussamun is thought to be a pronunciation of the word "Muslim." In Thailand, mussamun curries are often made with chunks of beef, but chicken is popular as well. Make this one a day ahead and you will be rewarded with an extraordinary blossoming of spice-laden flavors. Serve with rice or noodles.

Wowee! I've been making curries for a long time, but this one is definitely different and really delicious. I love the use of the tamarind. It's a slightly sweet curry, but that sweetness is offset in a great way by the lime juice that's added at the end. My son, who is not a fan of curry, was visiting for dinner and asked for the leftovers to take to work for lunch tomorrow. We forgot the crushed peanut garnish during picture taking, but they added a nice crunch and also added to all the complementary flavors going on. Thanks for posting another great recipe, Ev! Made for ZWT9, for team Gourmet Goddesses.
Open 1 can of coconut milk and use a fork to stir the contents until smooth and well combined. In a 6-quart saucepan or Dutch oven, bring 1/2 cup of the stirred coconut milk to a boil over medium-high heat. Add the curry paste and cook 1 minute, stirring and mashing the paste into the coconut milk. Add the chicken and cook 2 minutes, stirring often, until the chicken begins to change color. Add all the remaining coconut milk, fish sauce, sugar, tamarind liquid and salt and bring to a boil.
Reduce the heat to maintain a simmer and cook 15 to 20 minutes, until the potato is tender and the chicken is cooked through. Add 2 tablespoons of the lime juice and stir well. Taste and add more, if desired. Remove from the heat and let stand 10 minutes. Transfer to a serving bowl, removing and discarding the cinnamon sticks, or leaving them in as a traditional garnish not to be eaten. Serve hot or warm.