PaulaG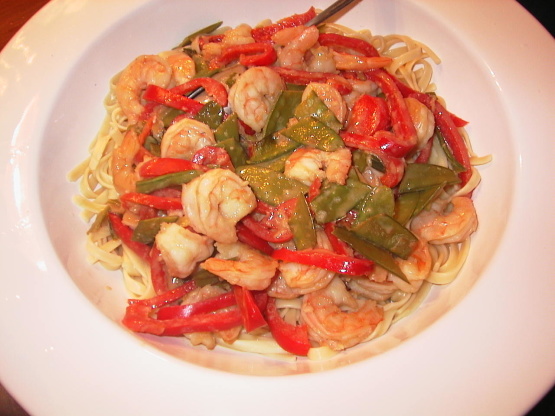 This flavorful pasta dish pairs shrimp or chicken with noodles and a peanutty sauce. I don't know how authentic it is, but I do know it's creamy and delicious! And as an added bonus, it's low-fat. This recipe is from Looneyspoons by Janet and Greta Podleski.

We really liked this. My 2 picky teenagers both gave this a thumbs up. Rare that they both like the same thing. One comment I got was to use less peanut butter next time but that's probably my fault and I didn't measure very well and probably used too much. Excellent recipe...thanks for sharing!
Cook pasta according to package directions; drain and keep warm.
While pasta is cooking, prepare sauce.
In a large saucepan, combine all ingredients except shrimp; mix well.
Bring to a boil; reduce heat to medium.
Cook and stir for 3-4 minutes, until vegetables are crisp-tender and sauce is bubbly and slightly thickened.
Stir in shrimp (or chicken) and cook just until heated through, 1-2 minutes; do not overcook or shrimp will be rubbery.
Toss hot shrimp sauce with pasta and serve immediately.