gailanng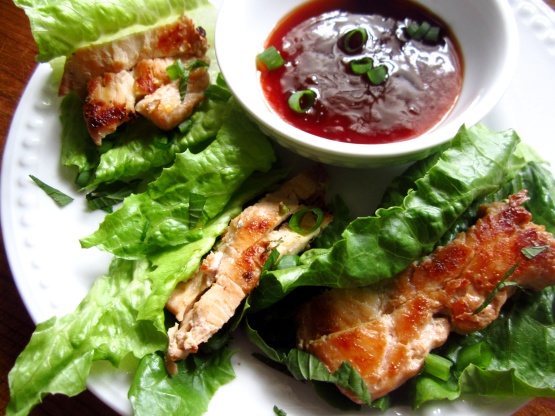 This is a delicious way to serve grilled chicken! It's perfect for those hot summer evenings when you want something light and easy. The chili sauce in the marinade is not too hot and even my children, who do not like spicy foods, love this chicken.

Top Review by Gerry
Excellent chicken! Great recipe for chicken breasts. Sambal oelek combined with soy sauce,oyster sauce and garlic - how could this not make for wonderfully flavored chicken. I love cilantro but need to introduce it slowly to family members so used parsley instead which worked very well. Had a few sprigs of cilantro on hand, I was very generous with the garnish on my serving! Next time around I am going to make your Recipe#188736 - sounds so perfect to serve with this Thai Grilled Chicken. Thank you J.Ko.
In a blender, combine cilantro, chili sauce, oyster sauce, soy sauce, garlic and sugar. Spread on chicken and marinate for at least 4 hours, preferably overnight. (In the refrigerator, of course!).
Pre-heat broiler or barbeque. Broil or grill chicken, skin side down, for 4 minutes. Turn and broil/grill 4 minutes longer until skin is crispy and chicken is cooked through.
Cut chicken on the bias into 1/2 inch strips.
Place lettuce leaves on a platter and arrange chicken on top. Garnish with cilantro, mint sprigs and green onions.
To eat in the traditional Thai manner, roll chicken in lettuce leaves along with herbs and onions. Dip into Thai Dipping Sauce (recipe # 188736).