Prep 15 mins
Cook 15 mins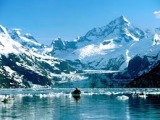 From Food and Wine magazine. This is a fairly healthy salad, infused with authentic Thai flavors. A quick fix dinner! I have also done this recipe and served it over romaine lettuce, if you want a more traditional type of salad. Make it your own!
Directions
Preheat your grill or grill pan over medium-high to high heat.
Rub the steaks with the oil and season with salt and pepper.
Grill the steaks, turning once, until an instant-read thermometer (stuck into the thickest part of the steak) reads 125 degrees F. - about 12 minutes. *This will depend on your grill/grill pan heating.
Let the steaks rest for 10 minutes before slicing.
Meanwhile, heat the water with the sugar in a small skillet, stirring until the sugar is dissolved. Transfer to a large bowl.
Add the garlic, fish sauce, lime juice and sambal oelek and let it cool.
Add the cucumber, onion, bean sprouts, mint and sliced steak and toss well.
Sprinkle with the peanuts and serve right away, with the lime wedges.
Reviews
Most Helpful
As a fan of Thai cuisine and with an abundant crop of mint in the garden, this made an excellent choice. Absoutely and totally delicious. In fact it seemed to get better and better with each mouthful. This is so good we are having it again for dinner tonight. A five star plus recipe. Made for Aussie / Kiwi Swap January 2012

So good. There's a lot happening in every bite, but it all tastes fresh and delicious. Followed the recipe to a T with the exception of using olive oil and more garlic. Thanks.

excellent! Even the guys loved it! I think this is better than the Thai restaurants in town. I used the bean sprouts, but I omitted the mint. I also omitted the canola oil and used butter :) This was very filling, made us all fee good eating it and we stayed full for hours after. I served it alone, with no accompaniment. The lime was perfect! Thank you!