WiGal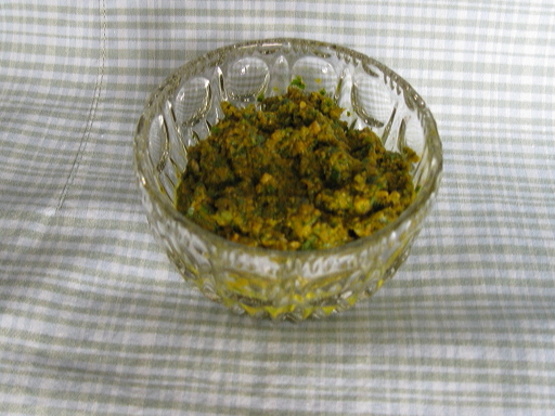 Saw this on James Reeson's Alive and Cooking and thought it would work well. Serving sizes really depends on how much you need to use for your recipe and have estimated the quantity produced from watching the segment.

Top Review by WiGal
Easy to do, spicy. Made mine in food processor. I did not have scallions so used a bit of red onion. Did not have fish sauce so subbed in worcestershire. Also used the least amount of oil that was suggested. I made a 1/2 cup batch to go into Recipe#269532 and think it worked well. I do sort of wonder if this could be frozen in portions, but I really do not know? Thanks I'm Pat for sharing. Made for Ed'n 8: MAKE MY RECIPE.
Chop the roots of the bunches of coriander and put in the blender and give a quick burst to break up.
Now add the coriander stems to the blender and give another quick burst.
Chop the leave section into segments and add to the blender and give quick bursts (you may have to do the leaves in batches depending on the size of your blender) and with each burst and as you blend down you can add more until you have mixed all and then transfer to a bowl.
Put the garlic, ginger and chillies (including seeds) and roughly chopped spring onion and blend and then add to the coriander mix and mix both well together.
Now add the turmeric (use a metal spoon unless you want yellow staining), fish sauce and then gradually add the olive oil to you get the consistency you want.
Put the mix into an airtight container and keep in the fridge and it will keep for 7 days.