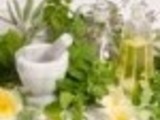 This is one of Emeril's recipe from the Food Channel that I adapted with my ingredients.A great way to initiate to Thai cooking.
Directions
In a wok or large saute pan, heat the oil over medium-high heat.
Add the onions and garlic, and cook until softened, 3 to 5 minutes.
Add the eggplant and the peppers and cook, stirring, about 4 minutes.
Add the curry paste, lemon juice and cook, stirring, for 15 seconds.
Add the coconut milk and fish stock and bring to a boil.
Lower the heat and simmer until thickened, 3 minutes.
Add the shrimp and cook until pink, about 2 minutes. Add basil.
Stir cornstarch that you mixed with the water if it needs more thickening. Remove from heat.
Serve on angel hair pasta.
Be careful with the curry paste and add to your taste.