ChefLee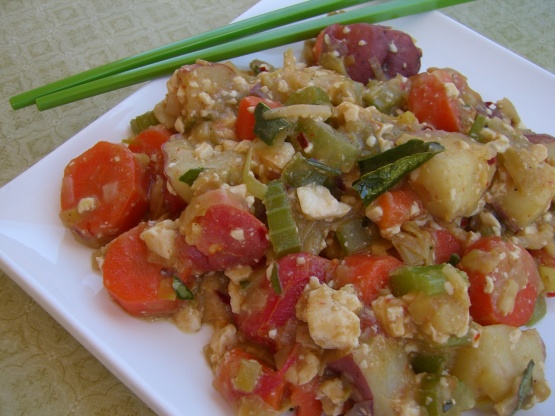 This is a tasty basic Thai green curry recipe. Feel free to add your choice of vegetables such as canned bamboo shoots, green beans, tofu, potatoes, etc.

Very good basic sauce. I used pork cubes instead of chicken, left out the chicken broth, added a bunch of vegetables like eggplant, green bell pepper, sliced onions, and zucchini, and used oyster sauce because I had no fish sauce. Served it over brown rice. So thanks for a very flexible recipe.
Cut chicken breast into slices or cubes.
Heat a skillet on medium high, and add chicken and shallots.
Cook chicken 5 minutes on each side.
Add garlic, ginger, and green curry paste. Stir until well combined.
Add coconut milk, chicken broth, brown sugar, fish sauce, and salt.
Increase heat until the mixture boils, then lower to a simmer for 10 minutes, stirring occasionally.
Enjoy!
Note: If you like a thicker sauce, you can add 2 tablespoons of flour, or 1 tablespoon of cornstarch mixed with a little of the sauce, then return to the skillet.