Thai Fragrant Vegetable Soup
V.A.718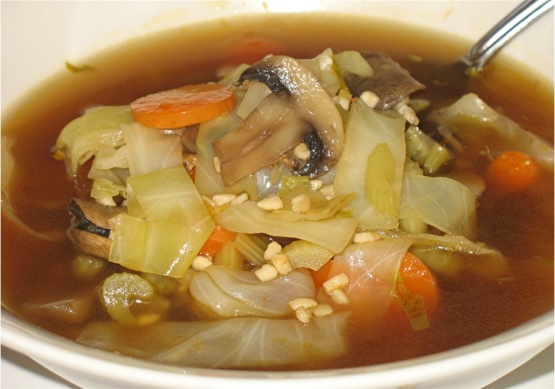 This is the new favorite at our house! Each spoonful brings a new combination of flavors and textures. And it's too! I've made it a few times now and have substituted lemon zest for the lemon grass, and hot sauce (to taste) or dried chilies in place of the Thai peppers. I've also added shrimp- which was awesome! My favorite way to serve this is to unmold a 1/2 cup of sticky rice in a soup bowl, spoon the soup in around it and garnish with some fresh cilantro and a lime wedge. Add a sprinkling of fried shallot over the "island" of rice and it looks beautiful! Thanks Sue L for such a wonderful soup.
In a deep saucepan, heat garlic in oil until fragrant; add broth, soy sauce, fish sauce, cabbage, carrots, celery, mushrooms, lemongrass, and chilies.
Bring mixture to a boil; then reduce heat and simmer for 10-15 minutes or until vegetables are tender.
Adjust seasonings for soy sauce, and fish sauce; then add lime juice and basil; serve.
Note: As an option you may also add cooked chicken, cooked beef or pork, or raw shrimp to this soup at the end of cooking; for shrimp, just allow enough time for them to turn opaque and curl tight; for meat, just heat through.