Thai Fish Cakes With Hot Peanut Dip
MsPia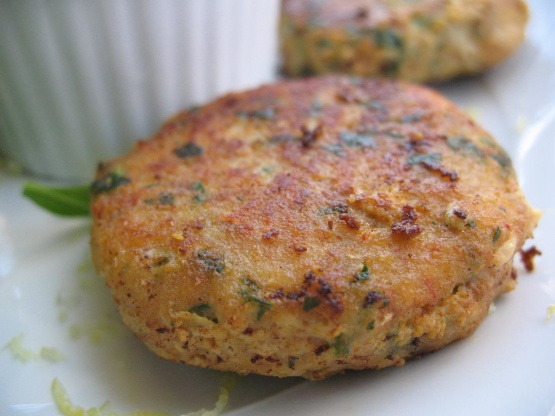 These little fish cakes are very popular in Thailand as street food, and make a perfect snack. Or, serve them as an appetizer, complete with the spicy peanut dip.

I love these, except for the fish sauce. I've discovered that I really don't like that in any recipe. I think I just can't get past the smell during cooking :). When I leave it out, these are perfect little bites of tastiness. Thanks for sharing. Made for Aussie Swap June 2009.
Put the fish fillet in a food processor with the fish sauce, curry paste, lime juice, garlic, kaffir lime leaves, salt & pepper, and egg white and process until a smooth paste forms.
Stir in the cilantro and quickly process again until mixed. Divide the mixture into 8-10 pieces and roll into balls, then flatten to make round patties and set aside.
For the dip, halve and seed the chili, then chop finely. Place in a small pan with the remaining ingredients and heat gently, stirring constantly, until well blended. Adjust the seasoning to taste.
Pan-fry the fish cakes in batches for 3-4 minutes per side until golden brown. Drain on paper towels and serve hot on a bed of green salad leaves with the chili-flavored peanut dip.