kda949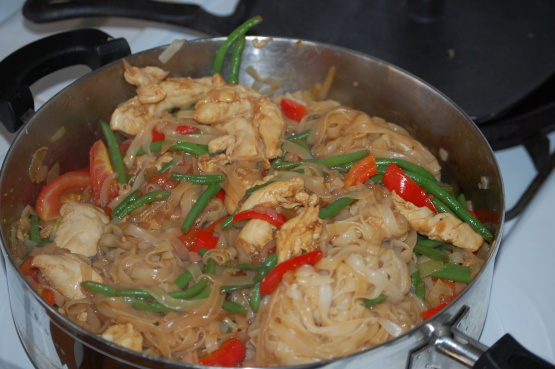 This recipe is from atasteofthai.com Haven't tried it yet, but it's on my list of things to cook. The site claims this is the Thai cure for a hangover.

Wow, what a great recipe! I made a few substitutes based on what I had in my kitchen, but it was delicious. I used honey instead of brown sugar, about 1 Tablespoon. I also cooked lasagna noodles and sliced them crossways before tossing them with the veggies and sauce (weird, I know, but I needed to use those noodles up). Finally, I added about 1/4 cup of the cooking water from the pasta when I added the pasta. Fabulous--a definite keeper!
Soak noodles according to directions for stir-fry; drain.
In a large skillet or wok heat oil over medium heat. Add garlic and stir-fry until light brown. Add onions, tomatoes, red bell pepper and green beans; continue to stir-fry over medium heat 1-2 minutes.
Stir in noodles. Add lime juice, garlic chili pepper sauce, soy sauce, brown sugar and salt stirring continuously until noodles are firm but tender.