PaulaG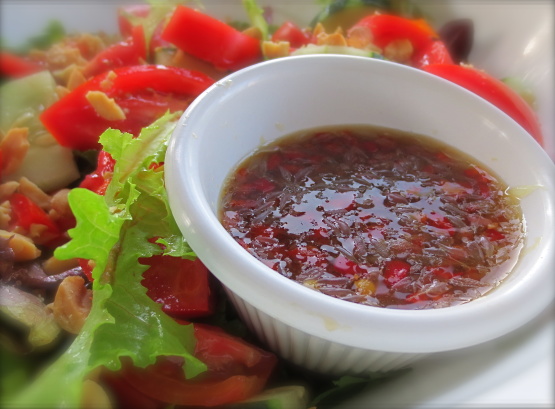 This is my favourite Thai salad dressing. Use it with any kind of green salad, mixed with tomatoes, green beans and radishes. Usually I also add one chopped peach or mango.

I made this early in the day and by dinnertime it was almost too hot from the red pepper flakes to enjoy. It was also a tad tart. Next time I plan to reduce the red pepper flakes by half and up the sugar/splenda. I think this would be terrific to add a twist to a cucumber, tomato, onion salad. I did use the rest today as a dipping sauce with spring rolls. Thank you for sharing the recipe!
Combine lime juice, fish sauce, brown sugar, minced chili and either store in the fridge until using or immediately add to salad of choice.
Top with chopped peanuts.