Prep 10 mins
Cook 10 mins

This is the traditional Thai dipping sauce used for salad rolls, spring rolls and almost everything else. Keeps indefinitely in the refrigerator.
Directions
Combine sugar water and vinegar in a small saucepan. Bring to a boil and boil for 5 minutes.
Reduce heat. Stir in garlic, fish sauce and chili sauce. Simmer for 2 minutes.
Remove from heat. Cool and add lime juice and shredded carrot.
Most Helpful
I would give this a 12 if I could! It's the sauce you love in the restaurants, only better! We made it to eat with salad rolls and it was wonderful. Turns out it was also perfect for some romaine leaves we had last night and some cabbage as an asian slaw...I may just put some on my french fries too!<br/>Truely J.Ko, it is wonderful, thank you so much for posting!<br/>PS -DH put this together so it was made exactly as written! :)

Yummo! Sadly I had no carrots on hand and I used vegan oyster sauce instead of fish sauce when making this but it was still awesome! I would also cut back the sugar a little next time.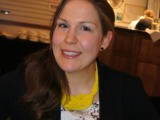 Great sauce, just the recipe I'd always been looking for. Next time around I'd probably use less sugar, but otherwise I'd keep it exactly as is. Goes well with http://www.recipezaar.com/Thai-Grilled-Chicken-189048 Thanks!