Thorsten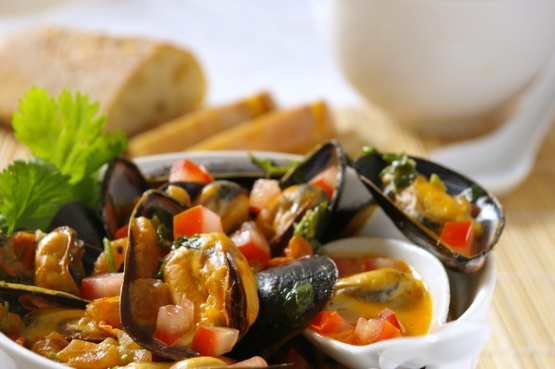 This recipe comes the The Santa Fe Cafe in Seattle. You can make this dish as spicy as you like, or mild if you prefer, and it's still good.

Top Review by roth55
Absolutely delicious!!! Served this as part of a dinner club menu and WOW!
Melt the butter in a large pot over medium heat.
Add the tomatoes, garlic and ginger, sauteeing until garlic is tender, about 2 minutes.
Pour in the coconut milk, then the curry paste, 4T chopped cilantro and the salt.
Simmer for just 4 minutes to blend the flavors.
Add mussels.
Cover and cook about 5 minutes until the mussels are opened.
Remember to discard any mussels that are not opened!
Place broth and mussels in soup bowls-- 6 first course or 4 main course.
Serve with crusty bread to dunk in the delicious broth.