Thai Curry Chicken & Vegetables
Prep 25 mins
Cook 25 mins

No idea where I got this recipe, but it is one of my favorites. Use your favorite vegetables. I tend to use mushrooms, carrots, and zucchini, but anything will work. I'm guessing on number of servings. I'm not crazy about really spicy dishes, so I always leave out the cayenne pepper.
Directions
Heat oil over medium-high until hot.
Stir in 5 spice powder, garlic powder, ginger, peppers, soy sauce and salt.
Add chicken, cook and stir for 5-8 minutes or until coated with spices and no longer pink.
Add chicken broth, curry, vinegar and coconut milk. Stir.
Bring to a boil.
Reduce heat and simmer uncovered for 20-25 minutes, stirring occasionally.
Add vegetables to skillet and bring to a boil.
Cook for 3-5 minutes or until vegetables are tender - crisp.
Serve over rice.
Most Helpful
Delicious recipe, I used light coconut milk and also cut back the cayenne to a pinch (substituting paprika to restore the lovely reddish hue). My veggies were broccoli, red pepper, and peas which looked lovely against the color of the sauce. If you are using lite coconut milk this will be a bit more "soupy" as the only difference between regular and lite coconut milk is the addition of water (compare the cans to see!). As such, I cut back my chicken broth to 1/2 cup and was pleased with the results. Great recipe, a keeper. Thanks, Karen!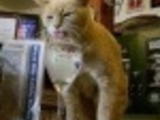 This was a $2000 Winner in Bake-Off Contest 35.

I just stumbled across the recipe used as a bookmark in an old book and was trying to find it on line rather than typing it.
Delicious! The seasonings were wonderful all together. I omitted the salt (personal preference) and used carrots, green peppers, and onions for the vegetables. Leftovers reheated wonderfully the next day. Thanks for sharing!