Alia55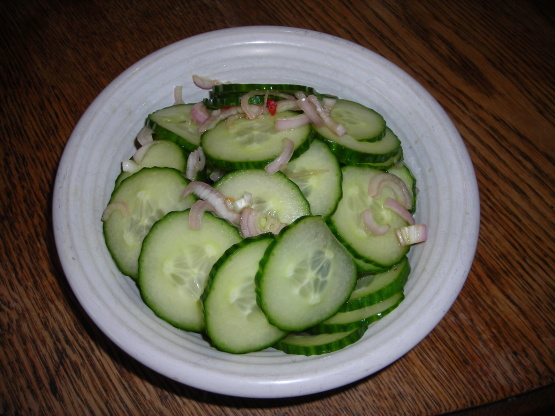 Our neighbor got this recipe from his fave Thai restaurant. It is so light and refreshing and perfect to serve as a side dish with any Asian dinner. Be sure to use a dried chili pepper to add some heat.
1⁄2 cup water

1

teaspoon vinegar

2

tablespoons sugar

1

teaspoon salt

2

small cucumbers, seedless, peel on, cut into fourths lengthwise, then slices
shallot, peeled and slice thin

1

Thai red chili pepper, dried chili pepper, cut into small strips, adds heat
In a small pan over medium heat, bring mixture of water, sugar, vinegar, and salt to a boil. Set aside to cool.
Pour over cukes, shallots and chili pepper. Serve.