Thai Coconut Milk and Chicken Soup
twissis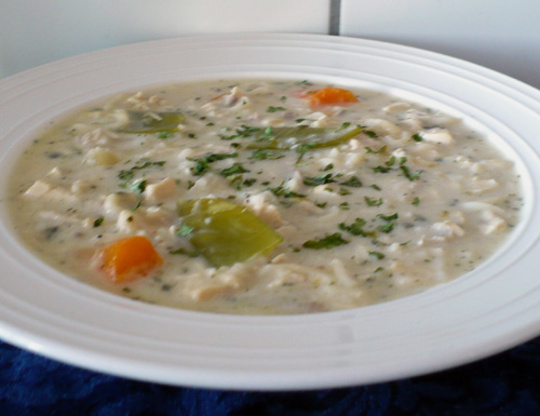 This is a composite of several different recipes. I took the parts I liked from each one and created this one. I don't think you can do this soup justice if you don't use fresh (or frozen) galanga and lemon grass. You just can't get the same flavor from dried. However, if you can't get fresh or frozen, dried is better than nothing! Galanga and lemon grass both have kind of a woody texture and aren't very edible, so you may want to remove them from the soup before you serve it. I prefer to leave them in.

Made for the My 3 Chefs event (coconut milk theme) & I hope you will forgive the liberty I took w/your recipe. 4 things about it attracted me - It was an easy-fix, used ingredients I had on-hand, used coconut milk which is lactose-free & was a good base for an expanded soup or a complete meal made to suit our pers pref. So my goal was much like your own - Creative. To meet my goal, I made your recipe as written & then I added 1 pkg of Ramen noodles, leftover carrot chunks plus snow peas. The outcome was a hearty & flavorful soup that 4 of us enjoyed a lot. Thx for sharing this recipe w/us.
Place chicken, chicken stock, galanga, and lemon grass in a large saucepan and bring to a boil.
Reduce heat to low and simmer until chicken is cooked through.
Add coconut milk and continue cooking on low until soup comes back to a simmer.
Just before serving stir in fish sauce and lime juice.
Pour into soup bowls and sprinkle top with scallions and cilantro.