Thai Chicken with Ginger and Mushrooms - Gai King
PaulaG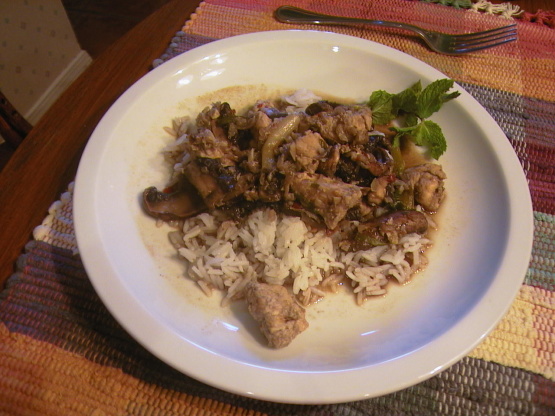 Adapted from the "Original Thai Cookbook". Has all the typical Thai stir-fry flavors in it. You could use dried mushrooms if you wish, but be sure to soak them first.
I followed the recipe to the letter using re-hydrated mushrooms and the result was quite good and well received by my guests. However having eaten this dish many times in Thailand I felt it lacked enough ginger in the taste. After all that should be the most memorable flavour of the dish.
In a small dish, mix together vinegar, fish sauce and brown sugar until brown sugar dissolves; set aside.
Heat oil in wok and stir-fry onions, garlic and chicken for 2 minutes for 2-3 minutes or until onions are limp.
Add soy sauce, ginger, mint, mushrooms, green onions, chilies and cook until chicken is cooked through.
Working fast, add vinegar, brown sugar, and fish sauce mixture to chicken and take off the heat.
Serve at once with steamed jasmine rice.