Thai Chicken With Basil and Coconut Milk
Prep 15 mins
Cook 15 mins

This recipe is from Australian Women's Weekly - Easy Thai Style Cookery and is one of our favorite home cooked thai meals. It is easy and quick to put together and tastes wonderful
1 tablespoon oil
1 onion, finely chopped
2 tablespoons red chilies, finely chopped
1 cup fresh basil, finely shredded (or 1-2 tbsp dried basil)
2 tablespoons fish sauce
1 teaspoon fresh cilantro roots (or 1 tbsp fresh cilantro leaves)
1 1⁄2 teaspoons sugar
13 1⁄2 ounces coconut milk
Directions
heat oil in wok or deep pan.
cook onions and chilies until soft.
add chicken and stir fry until tender. Add basil, fish sauce, cilantro and sugar. Cook for 1 minute.
add coconut milk and heat through.
serve with white sticky rice.
Most Helpful
Oh. My. Goodness. This is so wonderful! Made for a wonderful Friday night dinner with DH! I used siracha (sp) hot chili sauce, not sure how much (just to taste) and used dried basil and fresh cilantro and used light coconut milk! I will say if you use the dried herbs, after you add the milk, make sure to simmer it for about ten minutes to let the flavor develop because it changes a lot! At first the coconut was very overwhelming and after simmering everything just blended perfectly and the flavors really shimmered in and out in a perfect blend! Served with sticky rice and can't wait to make again! :) Made for PRMR Tag January 2010!
This was fantastic, much to my delight, because I was a little bit unsure. I used chicken breast sliced for stir-fry, I ended up getting some wonderful Thai basil from a local Thai market, and I had chilies from a plant my son just gave me that he bought at a Thai restaurant. I did miscalculate on the chilies, and ended up with about only 1 heaping tablespoon finely chopped but it was more than spicy - it did clear my sinuses! I had never used fish sauce before (and hated the smell of it), but it worked in just fine. There was indeed a lot of sauce, so make a lot of rice (I used basmati). I can't say enough how delicious this was, and I will be making this again. Even though I have had Thai Basil Chicken in restaurants many times before, the coconut milk really added a unique aspect that I will want again. Thanks for posting this. Made for 1-2-3 Hit Wonders Tag Game.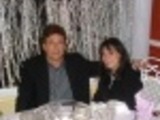 OMG indeed! Quick and easy...not many ingredients! Hubby loved it ...I fried some tofu squares on the side and spooned the sauce over the tofu for me...I can't wait to make it again