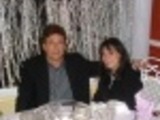 An abundance of whole basil leaves joins chicken and fiery red chiles for a quick, delicious, and decidedly spicy stir-fry. Holy basil is the most authentic choice, but any variety will do. (From Food and Wine.)
Directions
In a medium bowl, combine the chicken with the fish sauce, soy sauce, water, and sugar.
In a large nonstick frying pan or a wok, heat the oil over moderately high heat.
Add the onion and cook, stirring, for 2 minutes.
Stir in the chiles and garlic; cook, stirring, 30 seconds longer.
Remove the chicken from the marinade with a slotted spoon and add it to the hot pan.
Cook until almost done, stirring, about 3 minutes.
Add the marinade and cook 30 seconds longer.
Remove from the heat and stir in 1 cup of the basil.
Serve topped with the remaining 1/2 cup basil.
Reviews
Most Helpful
This is really good, the chicken comes out perfectly; and the amounts of onion, garlic and basil are perfect in proportion to the chicken. My only complaint is that the flavor profile needs some acid to really bring it into balance. A good squeeze of lime juice really brings this up to the five star level. Made for ZWT9.

This is perfect, tasted just like restaurant dish!
This was excellent, just like the chicken with basil at our local Thai restaurant.