Thai Chicken Saute With Basil & Mandarins
Diana 2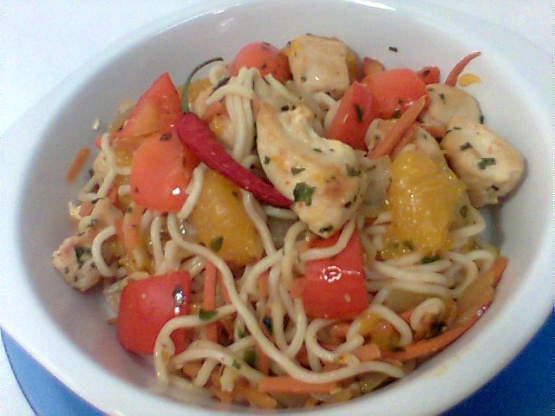 Introduce your family to the Taste of Thai. This version is mild enough for almost every member of the family. Quick and easy, plus with the addition of economical ramen noodles, you can stretch your dinner-dollar further. Feel free to add or switch up the vegetables. It can only make this healthy dish better. Created for the 'Dining On A Dollar' Contest

Top Review by Gerry
We are very fond of Thai food - especially when the combination has all our favorite vegetables and of course the sesame oil and sambal oelek. Like BK used the Thai cellaphane noodles. Used one can of mandarin oranges (only had one on hand) Tasted great - looked marvellous served on a white platter. Definetely a company quality meal! Thank you we enjoyed.
In a medium saucepan, bring water to boil. Add noodles, cover and remove from heat. Allow 10 - 15 minutes for softening, then drain. Set aside.
In a large skillet, heat oil. Add onions and sambal olek. Saute until onions are slightly transparent.
To the onions add red peppers, carrots and garlic. Continue to saute until peppers are just beginning to soften.
Add chicken, basil, salt and pepper. Stir until chicken is heated through.
Add orange pieces and the drained noodles. Toss gently until heated through.