Thai Chicken Salad in a Spring Roll Bowl
ChefLee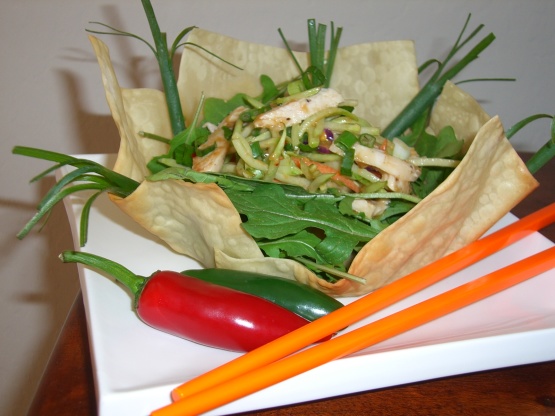 The crunch of the bowl makes this chicken salad unique, and also company worthy. Each of the three components can be done separately ahead of time then assembled at the last minute. This could be made vegan by subbing tofu or edamame for the chicken.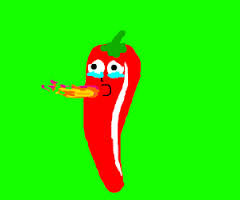 I wish this recipe had caught my attention during the RSC#13 contest because it is a really cute idea and the peanut dressing is great!! I tried this with both spring roll wrappers and egg roll wrappers because spring roll wrappers are really cheap so the experiment didn't cost much and I have lots left to use. Since I wasn't reviewing this for the contest, I wanted larger bowls so I baked them like a frico on upside-down mini bundt-cake pans. To soften the spring roll wraps, I placed them in lukewarm water for a few seconds then removed them to a towel to dry off excess water. I rubbed both the spring roll wraps and egg roll wraps with canola and a little bit of toasted sesame oil for flavor and to mold the sheets into a bowl. (I don't like to use Pam spray because of the propellant it contains) The egg roll wrappers definitely worked out better for this. The spring roll wraps just want to be spring rolls I guess and not be baked which is o.k. because I don't like their flavor as well as egg roll wraps anyway. So I assembled my salad in the egg roll wrap bowl instead of the spring roll wrap bowl. The peanut dressing was delicious and I added a bit more honey and peanut butter to balance the vinegar to my taste. The bowl was fun to break off and crunch while eating the salad too. I like this idea because anytime you can make food more beautiful, it just tastes better and people enjoy the pretty presentation!
Preheat oven to 350°F.
Cook chicken breasts by pan searing, poaching, baking, grilling. Your choice. Can use leftover chicken if available. Cut into small dice.
Meanwhile, spray muffin tin with Pam. Spray 8 spring roll wrappers on one side with Pam. Place sprayed side up, one per muffin cup, pressing gently to fit.
Bake at 350°F for eight minutes until browned. Cool on wire rack.
Combine dressing ingredients in large (later the salad will be added) bowl, whisk well.
To make salad: Place salad ingredients in large bowl with dressing and gently toss to combine well.
Place 3/4 to 1 cup salad into each crispy cup and serve immediately.