Thai Chicken Lettuce Wraps
ChefArla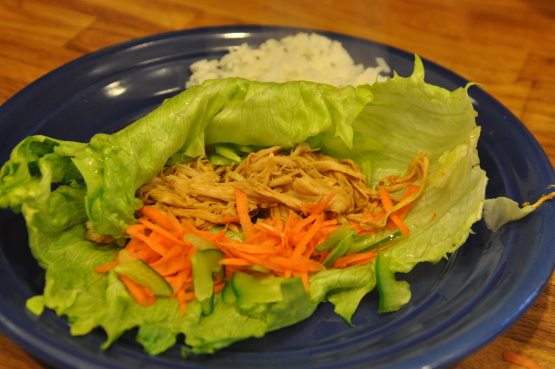 I have been looking for something lower carb with crunch and this does the trick! It is pretty spicy so you can cut the chili-garlic sauce (Sriacha) down to 1 teaspoon and add a teaspoon of either soy or teriyaki sauce if you want a milder version. Prep time does not include cooking and shredding the chicken

I make these at least once a month! I add extra teriyaki sauce and extra saracha because like it a little more moist and spicy. So good :)
Heat olive oil in a large skillet. Add shredded chicken and water chestnuts (leave these out if you want even lower carb).
Meanwile, Remove core from head of lettuce, then wash and dry leaves.
Combine garlic, ginger, lime juice, chili-garlic sauce, cilantro and teriyaki sauce in a bowl and mix well.
Add to skillet and stir.
Arrange lettuce leaves on the outer rim of a serving plate. Spoon chicken mixture onto the center of each lettuce leaf and roll like you would a burrito.
Serve with extra chili-garlic sauce (Sriacha) or soy sauce as garnish if desired.