Rita1652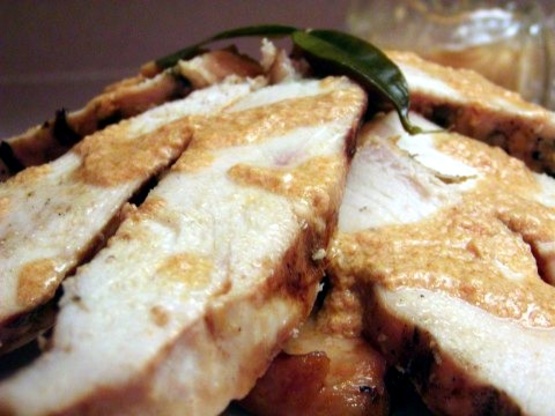 The delicious red curry sauce makes this grilled chicken out of this world.

Top Review by ksenko
I made this as part of the Asian Grill Menu posted by Rita L. (Menu #3568). I made the entire menu and it was a huge success. The original meal I had planned was not working so I was able to start this mid-afternoon and still have it ready by dinner. The gueats raved about the chicken (and the pineapple dessert). Thank you for saving my dinner party!
Put chicken pieces in a one gallon, re-sealable storage plastic bag along with the brine and allow to marinate in fridge for about an hour.
Discard brine and rinse chicken with fresh water.
Pour coconut milk into saucepan over medium heat. Add the red curry paste, sugar and lime leaves and mix well with the milk. Continue to stir frequently until sauce comes to a simmer. Allow to simmer for about 5 minutes stirring frequently.
Allow sauce to cool place in a storage bag add rinsed chicken and allow to marinate at least 2 hours; preferably over night.
Grill chicken using indirect method to avoid charring. Grill until registers 180°. When checking for doneness with a meat thermometer, insert in the center of the inside thigh muscle, making sure the probe does not touch the bone.