Thai Chicken Fettuccine, Southwest Style
MsSally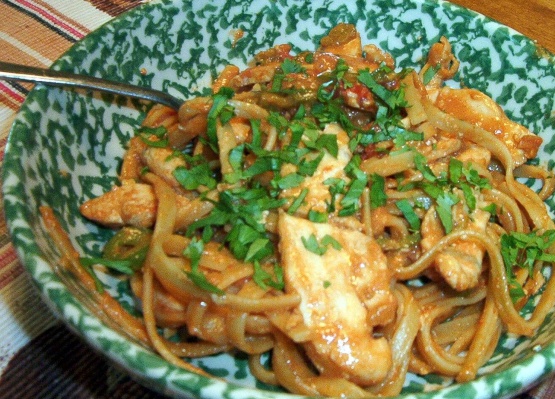 Around the world in one dish... (7/5/07 -- NOTE: I suggest more sauce than posted by either increasing salsa to 1 1/2 C, or add 1 diced tomato during heating process to increase sauce quantity. It's better to have a little more sauce than not have enough!)

Top Review by DrKate
This recipe is our absolute favorite. We' shared it with tons of friends and everyone is making it at their houses now too!! We double the sauce (its too good not to) and just a note.... don't let the sauce sit for too long on the stove as it gets too thick and doesn't coat as well once you combine it with the past. Otherwise, its fantastic! Great zip, great flavor, a real crowd pleaser. THANKS FOR SHARING!
In saucepan or microwave, combine salsa, peanut butter, orange juice, honey, soy sauce and red pepper flakes. Heat until well blended.
In a large skillet, cook chicken in oil over medium heat for 3-5 minutes until browned. Add julienned red pepper and cook and stir until crisp-tender.
Cook fettuccine according to package directions and fold into chicken mixture. Stir in sauce, salt to taste and sprinkle with cilantro.
Wonderful with spiced fruit salad.