Thai Chicken and Vegetable Stir-fry
acg_nyc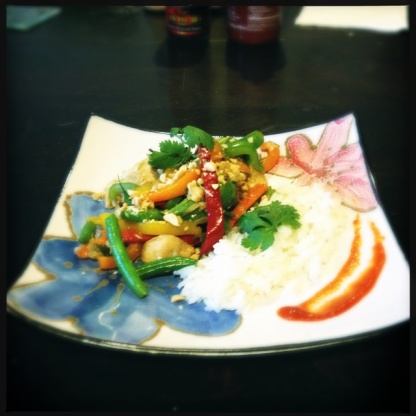 This recipe has been adopted and edited by me in February 2005. You can easily make this dish a little hotter by adding more fresh ginger. I hope you will enjoy this newly edited recipe.

Really tasty!! A great way to use (and consume) fresh vegetables!
Thinly slice the lemon grass (or lemon rind).
Peel and chop the ginger and garlic.
Heat the oil in a large wok style pan over high heat.
Add the lemon grass (or lemon rind), ginger and garlic and stir-fry for 30 seconds, or until brown.
Add the chicken and stir-fry for 2 minutes.
Then add the vegetables and stir-fry for 4 to 5 minutes, or until the chicken is cooked through and the vegetables are almost cooked.
Finally stir in the oyster sauce, a pinch of sugar and seasoning to taste and stir-fry doe another minute for flavors to blend.
Serve immediately, sprinkled with the crushed peanuts and freshly chopped cilantro leaves on top accompanied with cooked rice or Asian noodles.
Enjoy!