Deb Wolf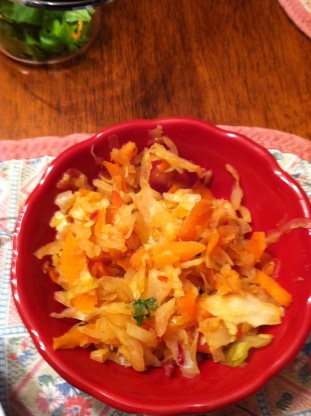 A great way to fix cabbage! I got this from a Weight Watcher's magazine.

9/29/2007 This is so good! Easy and quick to prepare, tasty too. I needed a side dish for recipe #230166 and came across this. They made a great pair. It also is WW friendy, how cool is that...It's a keeper. Thanks, Sharon123 for posting. Update. Made again this time served it with recipe #108105. Excellent meal. Worthy of 10+ stars. A must make.
Combine the first four ingredients in a bowl; stir well, set aside.
Heat peanut oil in a wok or large nonstick skillet over medium high heat.
Add ginger and garlic; saute 1 minute.
Add cabbage, bell pepper and carrot; saute 2 minutes.
Add lime juice mixture; saute an additional 2 1/2 minutes, or until cabbage is tender.
Remove from heat and sprinkle with chopped cilantro.
This makes 7 servings.
For weight watchers this is 1 point.
Enjoy!